Ski Boots
Rent or buy with personal advice for your optimal boot
The ski boot is the fundamental link between man and ski. It transfers power directly to the edges of the skis, providing greater stability and control, and therefore less fatigue. Come to our rentals and shops, where we not only offer high quality rental services, but are also experts in the sale of ski boots.
High wearing comfort and maximum support.
Choose from 2 categories of ski boots:
Performance boots ***** – for athletic skiers
If you want to ski on slopes of advanced difficulty, it is essential to have a boot with a precise fit. This is essential to ensure better control over your skis, so that you can exert more effective pressure on the blades and therefore ski better and with less sticking.
Standard Boots *** – For intermediate skiers
These are the ideal boots for intermediate skiers, with a slightly wider fit and more flexible flex. Each pair is fitted with the brand new Gripwalk® anti-slip sole.
Recommended by boot fitter for excellent fit
Special models with women's fit
New non-slip GripWalk® outsole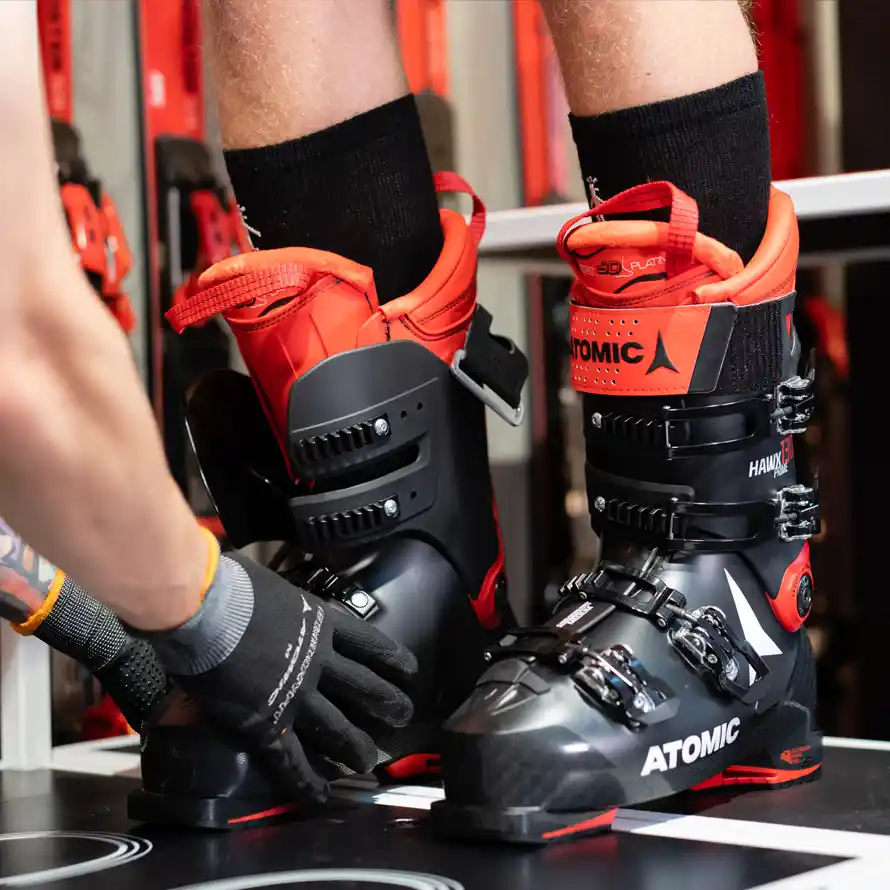 Scarponi Performance
Disinfected after each rental

Cutting-edge technologies
Price per day for 6 rental days
Scarponi Standard
mostly news of the season

Disinfected after each rental
Price per day for 6 rental days
5,67 Euro/day – Kid <14 years (up to size 41)
3,50 Euro/day – Bambini <9 years
Your exclusive benefits with Intersport Val Gardena
Best quality
Rent this season's new products from the most renowned brands.
Free ski helmet
Your children's safety is very important to us. Rent equipment of the best brands, and helmets are free.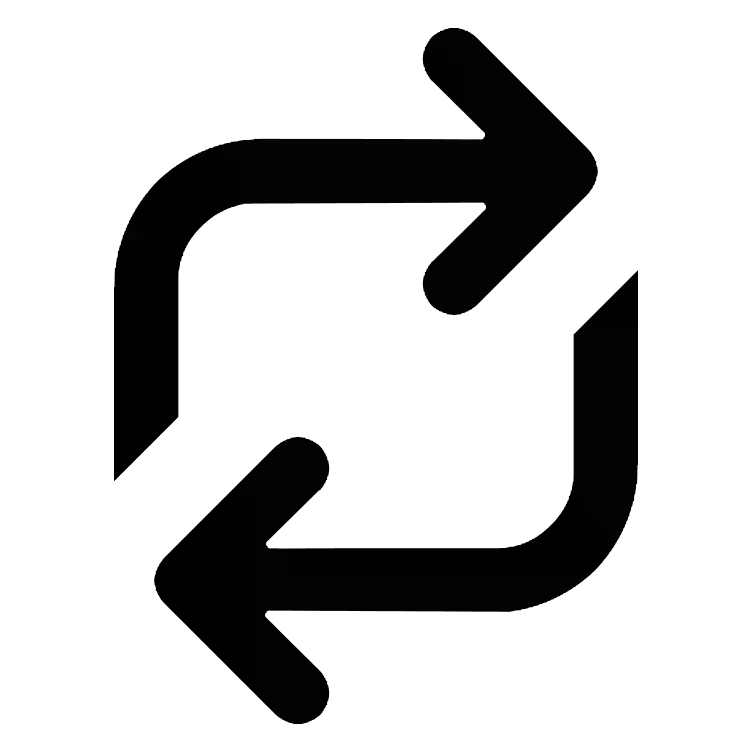 Free exchange
At our 3 ski rentals in Val Gardena you have the option of replacing your rental equipment free of charge.

Family-friendly prices
We offer for children the ski set, boots, poles at a very advantageous price.
Save and book online
If you book online at least two days before the start of the rental period, you get 10% discount.
Buying ski boots: what to consider
A good ski boot offers comfort, good support and a perfect transfer of power and control from the skier to the skis. The most important factor is fit, which starts with choosing the right size. How do you determine the size? At Intersport Val Gardena we measure the length and width of the foot. This is essential for our experts to choose the right type of shoe.
How do I find the right ski boot model?
The width of the ski boot is crucial for an optimal fit. A boot that is too narrow can cause discomfort, while one that is too wide does not provide sufficient contact and support for the ski.
Narrow
Narrow fit' ski boots have a forefoot width of 98 millimetres (in MP size 26/26.5) and, in general, are more snug-fitting. They are designed for skiers with narrow feet and for those who want a sporty fit for maximum power transfer.
Medium
A 'medium fit' has a minimum width of 100 millimetres (in size MP 26/26.5). These medium width ski boots are slightly wider at the midfoot and heel, and are suitable for most skiers.
Wide
Ski boots with a 'wide fit' have a minimum width of 102 millimetres at the forefoot (MP size 26/26.5). These wider-cut ski boots are aimed at skiers with wider feet and calves.
We at Intersport have seen many types and shapes of feet. Let one of our expert boot fitters advise you and purchase a ski boot that will give you great comfort and satisfaction on your next ski descent!
Test ski boots – TRY & BUY
Skis and boots: first you try, then you buy!
The boot is the most important part of all ski equipment. If it is uncomfortable or unsuitable for your technical level and physical characteristics, skiing is uncomfortable and uncomfortable. Intersport Rent S. Cristina and Selva di Val Gardena offer you the opportunity to try on some boot models before you buy them. For high-end boots, we can guarantee a perfect fit with boot fitting. This process can only be done at the time of purchase.
Below we present some new customisable ski boots for the winter season:
Atomic Hawx Ultra 130 S
| | |
| --- | --- |
| Ski Boot Category: | High Performance |
| Last width: | 98mm – narrow |
| Flex (stiffness): | 130 |
ULTRA LIGHT & ULTRA POWERFUL!
The new Atomic Hawx Ultra 130 is the lightest alpine ski boot we've ever made. It's also the stiffest boot in our brand new Hawx Ultra range – bringing the legendary Hawx feel to skiers with narrower feet. It includes Memory Fit for the personalization of a custom ski boot in minutes, plus a Memory Fit 3D Platinum liner with pre-shaped heel and ankle areas for an even better first fit. The reason it's so light is a Grilamid cuff combined with our radical new Progressive Shell that adds reinforcement in key zones but reduces wall thickness overall to cut weight by 25%. For the best combination of snow-feel and power ever felt in an all-mountain boot, Hawx Ultra also features an asymmetric Energy Backbone that provides extra strength and edge grip for super strong skiing. Add Power Shift, Cuff Alignment and our new Cantable Grip Pads and you've got one of the best performing, most customizable boots to date.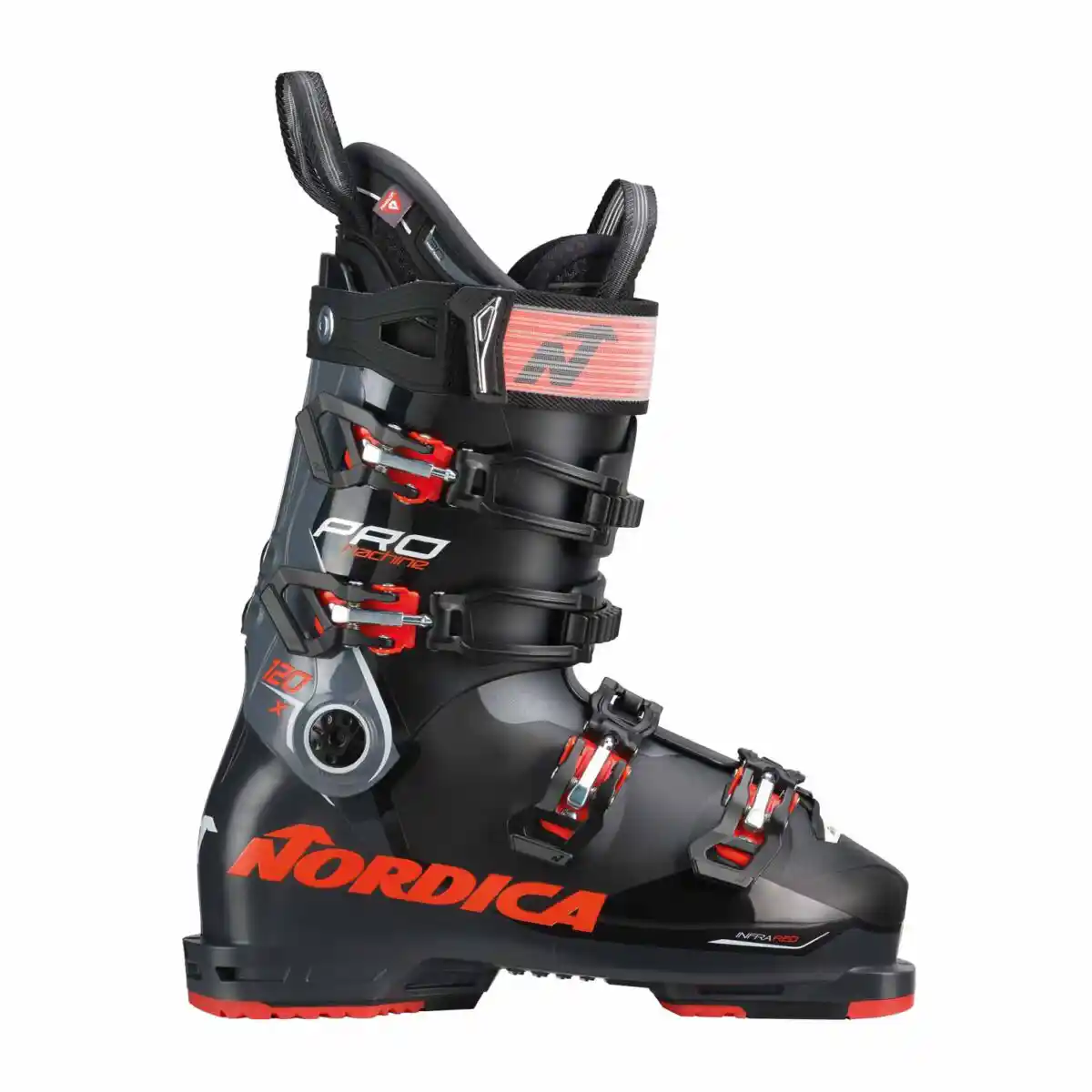 Nordica Pro Machine 120
| | |
| --- | --- |
| Ski Boot Category: | High Performance |
| Last width: | 98mm – narrow |
| Flex (stiffness): | 120 |
ALL MOUNTAIN / HIGH PERFORMANCE
The new Nordica Pro Machine: the best ski control and sensitivity through 98mm skirt width. With the fully customizable Tri-Force Infrared shell and 3D Fit liner, the Pro Machine is incredibly powerful and precise without sacrificing comfort. A ski boot to challenge you any challenge you are looking for or the mountain holds for you. Powerful, comfortable and fun.
Atomic Hawx Ultra 110X
| | |
| --- | --- |
| Ski Boot Category: | Performance |
| Last width: | 98mm – narrow |
| Flex (stiffness): | 110 |
ALL MOUNTAIN / PERFORMANCE
360 ° inside and outside customizable area!
This ultralight performance ski boot provides outstanding energy transfer. The 98mm last width, combined with the outstanding anatomy of the footbed, provide the ultimate in personalized fit, ensuring firm grip for both downhill and all-mountain skiers. The perfect symbiosis between impulse transmission, power and efficiency.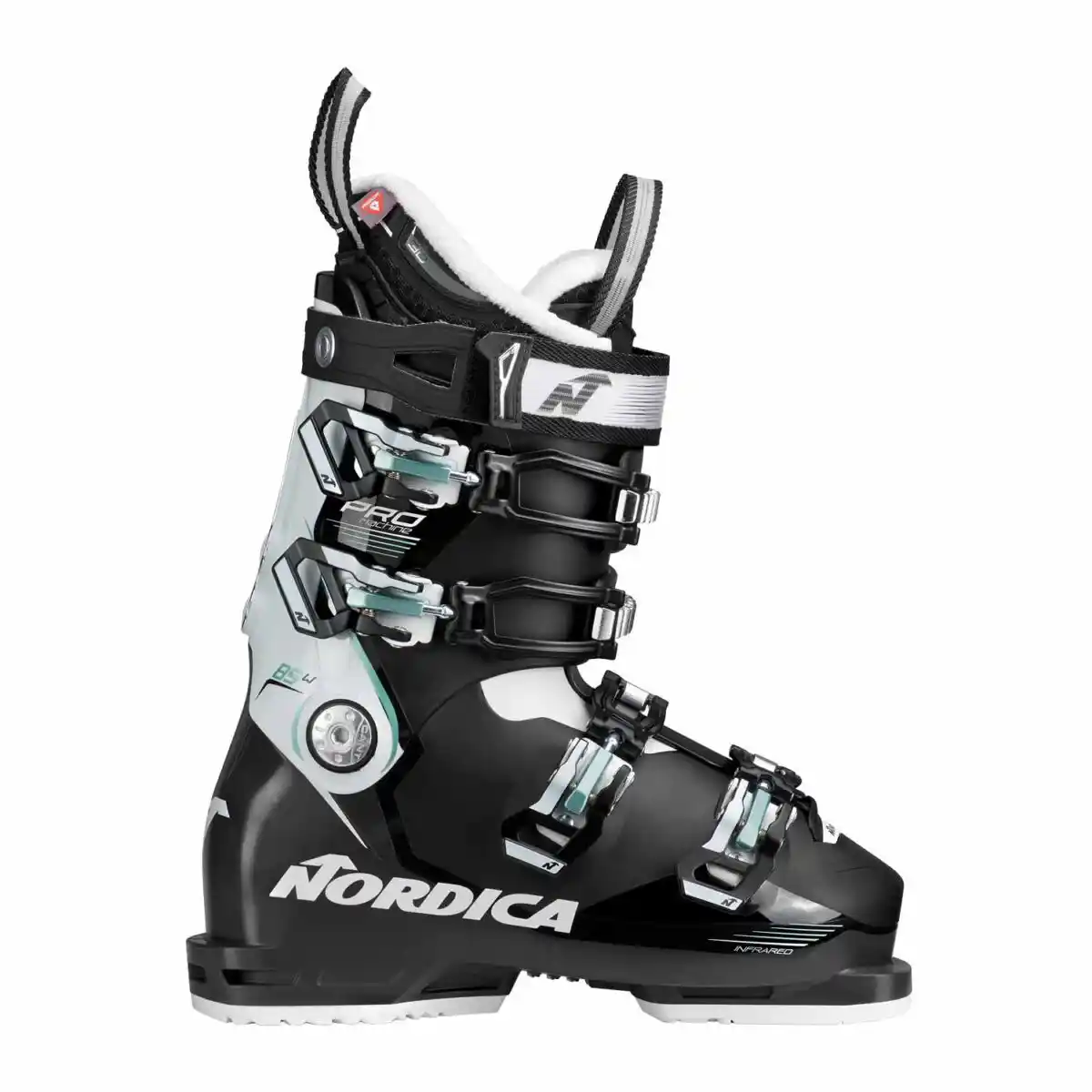 Nordica Speedmachine x95 W
| | |
| --- | --- |
| Ski Boot Category: | All Mountain |
| Last width: | 100mm – medium |
| Flex (stiffness): | 95 |
ALL MOUNTAIN / PERFORMANCE
The Speedmachine 95 W delivers top of the line all mountain performance, regardless of what Mother Nature has in store for you. With its fully customizable Infrared Tri-Force shell, 3D performance fit liner, anatomical women's cuff and liner design and Primaloft® insulation the Speedmachine delivers high performance and precision without sacrificing comfort and warmth. This boot was built to take on anything you or the mountain can throw at it. Powerful, comfortable and fun.