Bike rental in Val Gardena
Mtb & e-bike rental, guided bike tours and bike workshop
Welcome to Val Gardena, the paradise of the Dolomites, where adventure and natural beauty combine to create an unparalleled cycling experience. If you wish to explore this wonderful region on two wheels, our bike hire in the middle of the Dolomites is the perfect solution.
At our bike rental centre in Val Gardena, we offer a wide selection of high-quality bicycles to meet all your needs. Whether you are a keen cyclist looking for a thrill or a family looking for a day of fun in the great outdoors, we have the perfect bike for you and your whole family. We offer e-bikes, road bikes and mountain bikes for rent and are ready to provide you with the ideal means of exploring Val Gardena.
Our team of experienced cyclists and local enthusiasts are on hand to advise you on the best routes, from off-road trails to scenic roads, places to visit and hidden attractions in Val Gardena. Visit us in Selva Val Gardena or Santa Cristina , we are glad to see you!
MOUNTAIN BIKES AND E-BIKES NEW IN SEASON

E-BIKE WITH POWERFUL BATTERIES UP TO 750WH

GUIDED BIKE TOURS & PRIVATE COURSES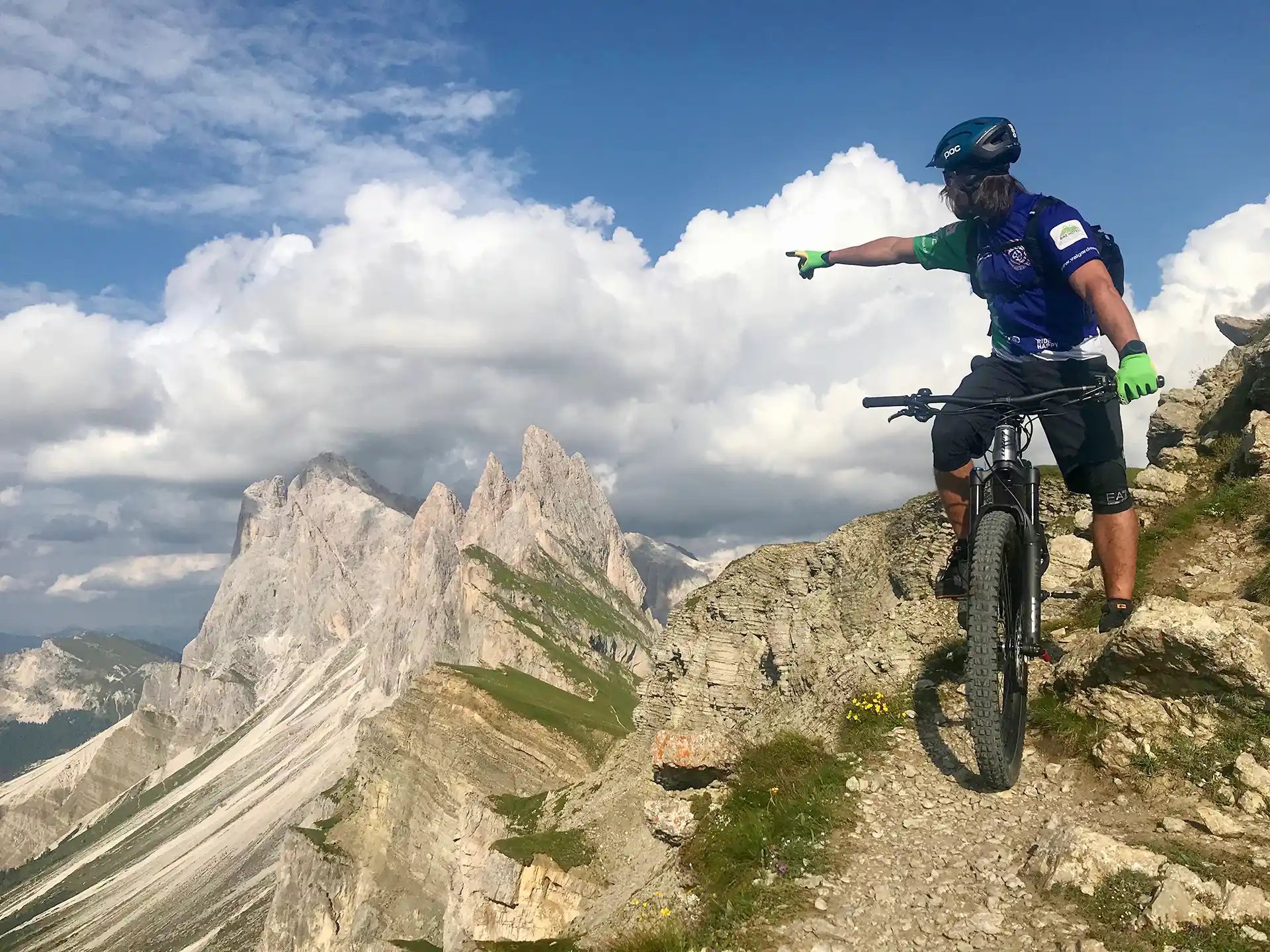 Your exclusive advantages at Intersport Val Gardena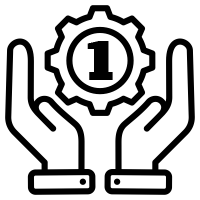 Best service
In our two bike rentals in Val Gardena all bikes are serviced and cleaned daily.
Free bike helmet
The safety of your little ones is very important to us. Helmets are free of charge for children up to the age of 14.
New bikes 2024
We rent only the latest summer bikes and e-bikes. New in 2024: Cube Hybrid Light E-Bikes with a weight of 17 kg! (approx. 10 kg savings)

E-bikes for kids
We offer 24″ e-bikes for your kids. These pedelecs are suitable for children from 8 years old.
Save and book online
Save money, and book at least two days before the start of the rental period.
Meet our Bike Academy
Our team comprises highly skilled local MTB guides who are dedicated to ensuring your Dolomites experience is truly unforgettable. We offer a comprehensive range of services, including riding courses, thrilling guided hikes, and exciting single trail challenges right in the heart of this breathtaking mountain environment. You can find our mountain bike school locations in two prime spots: S. Cristina and Selva di Val Gardena. We're eager to welcome you with enthusiasm and share the beauty of this region.
For further details and reservations, please don't hesitate to get in touch with us. You can reach us by phone at +39 0471 794118 or email us at info@valgardenasport.com.
Come join us and embark on a journey to explore the enchanting world of mountain biking in the Dolomites, guided by our seasoned professionals.
Book your bike online
Reserve your bike online and start riding with no waiting time. Availability is limited, so secure your favorite bike today. With online booking, you can plan your ride with peace of mind, knowing you have your bike ready and waiting for you.
Don't miss out on the opportunity to explore the beauty of your next two-wheeled trip without any worries. Book now and get ready for a worry-free ride!
BOOK NOW WITH THE INTERSPORT GUARANTEE:
Only new in-season bikes and e-bikes

Long life batteries up to 750Wh

Bosch motors for maximum uphill push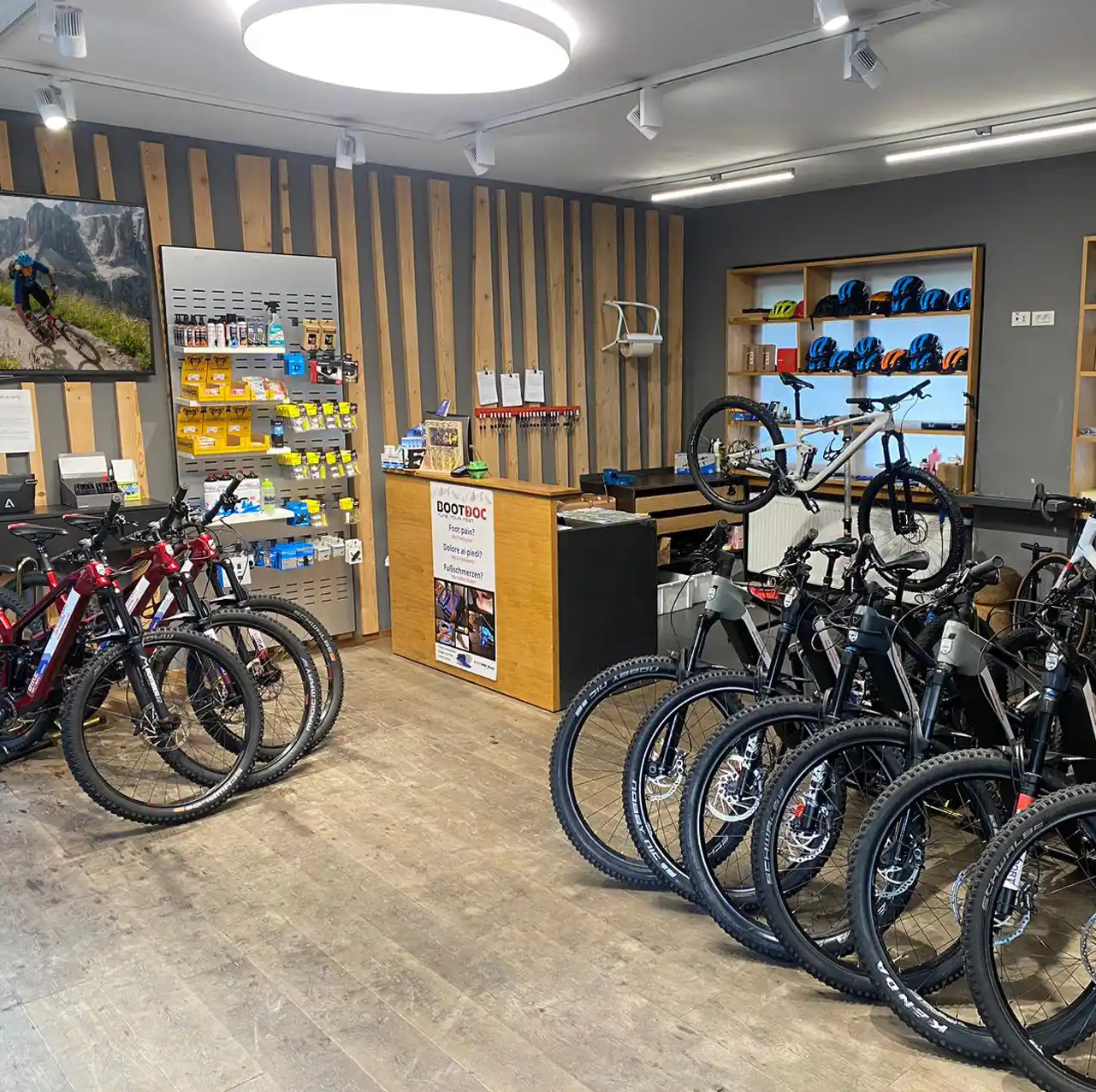 Discovering the Dolomites by road bike
For avid cyclists, the Dolomites are a must-see destination. This corner of Alpine paradise offers a series of scenic roads that are a real treat for those who love to ride road bikes. Prominent among these roads are the legendary Sella Pass, the scenic Pordoi Pass, the striking Gardena Pass, and the majestic Fedaia Pass.
Whether you're an experienced cyclist looking for tough challenges or a cycling enthusiast who wants to explore the Dolomites in a more relaxed way, this region has something to offer everyone. Epic landscapes, well-maintained roads, and fresh mountain air make every ride an extraordinary experience.
The Dolomites are a true paradise for road cyclists, a place where every turn offers new excitement and breathtaking views. So come rent your road bike and immerse yourself in the cycling adventure of the Dolomites.
Mountain biking in breathtaking scenery
Val Gardena is the ideal starting point for a wide range of exciting bike tours. In addition to the wide forest roads, perfect for families and beginners, the natural beauty that encompasses the valley provides endless single trails, making this landscape a true paradise for mountain bikers.
The local infrastructure is designed to provide an optimal two-wheeled experience. The Sellaronda Mtb Tour, for example, offers as much as 60 kilometers of pure nature to explore, while new trails dedicated exclusively to cyclists are inaugurated every year, always guaranteeing new adventures and challenges.
So if you are looking for adventure and fun on two wheels, Val Gardena is the perfect place to satisfy your thirst for nature and adrenaline.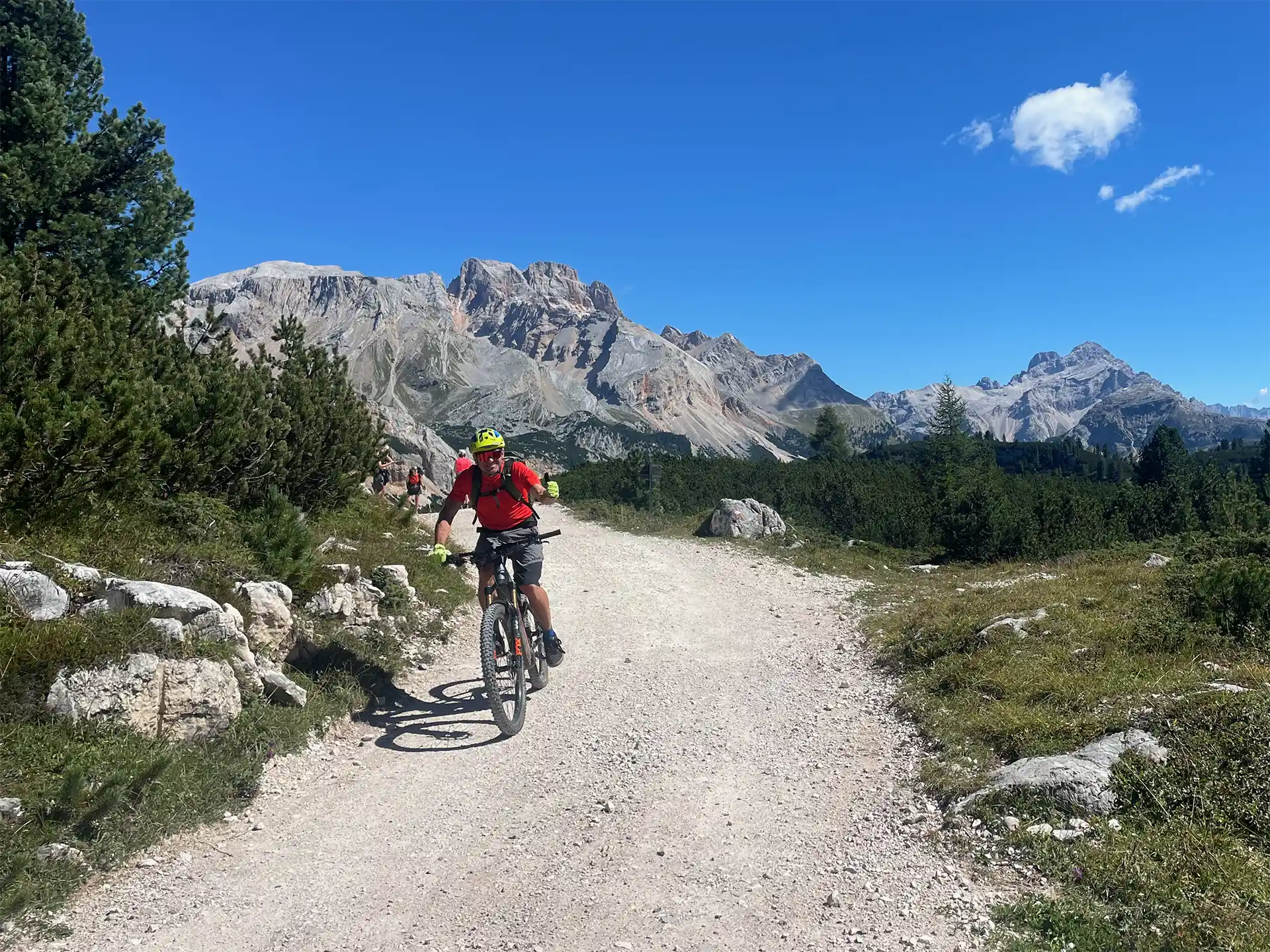 Here you can rent your bike in the bike rentals of Val Gardena
If you have questions, need assistance, or would like to share suggestions, we are happy to help. We invite you to email us or contact us by phone. We look forward to being able to assist you and introduce you to our full range of services.